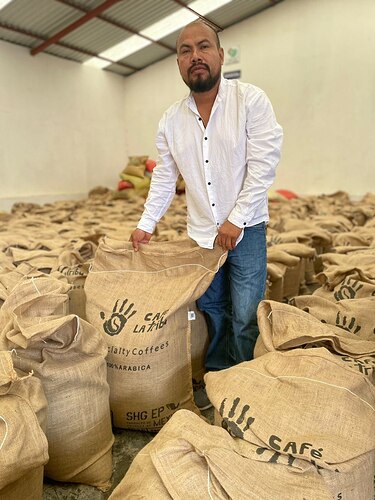 El originador :
Café la Tribu, es un Red de cooperativas, trabajando de manera coordinada y con
objetivos comunes. "hacer de la Cafeticultura una forma digna de Progreso y
Desarrollo para las familias que dependen de este cultivo en la Sierra Madre de
Chiapas".
Dentro de esta Red, participan las Cooperativas Café Fundadores SPR de RL
y Reserva 1920, Cafés Especiales SPR de RI. En en su conjunto agrupan unas 539
familias que producen unos 23, 240 Qq en unas 1,907 hectáreas. Estas parcelases se
encuentran dentro de la zona de amortiguamiento de un Área Natural Protegida (ANP) Reserva de la Biosfera El Triunfo, una de las más importantes a nivel Nacional e Internacional como es
Trabajamos nuestras parcelas en armonía con la madre naturaleza, bajo el sistema de
producción orgánica, con cafetales manejados bajo sombra diversificada. Año con año
hemos crecido en impacto y en necesidades también, por ello, entendemos que buscar
alianzas estratégicas es el mejor camino. Estamos impactando directamente en mas de
539 familias y de manera indirecta unas 2,695 familias campesinas.
El proyecto::
El proyecto consiste en el apoyo financiero para la exportación de México a Europa y su posterior comercialización de 14.000 Kg de café verde de la las dos cooperativas bajo la marca común de La Tribu. La exportación está planificada para septiembre del 2023 y su comercialización a lo largo del 4T 2023 y 1T 2024. El café será café verde de especialidad, en proceso lavado, orgánico, y con 82-84 pts de taza.
La garantía:
Puesto que la cooperativas agrícolas suelen tener sus activos en café, en esta ocasión tomaremos el 20% del café entregado como colateral, en lugar de exigir el 20% del stake del proyecto en ethixs.
El préstamo:
Se ha establecido un precio objetivo mínimo de venta de la cooperativa de 2,3 USD/Libra, lo que es equivalente a 5.07 USD/Kg. Puesto que la operación de las dos cooperativas es de 7000 Kg cada una, hacen un total de 14.000 Kg a 5.07USD/Kg, lo que suma un total de 70.980 usd. Adicionalmente calculamos 1 usd/kg para gastos logísticos de transporte, almacén y distribución. En total el proyecto se evalua en 85.000 usd. El presupuesto se solicitará de forma parcial en diferentes fases de 10.000 usd en la plataforma.
Redes sociales:
https://www.instagram.com/cafelatribuac/
RESULTADOS DE LA PRIMERA RONDA DE VOTACIÓN:
VOTOS EMITIDOS : 9
VOTOS a FAVOR: 9
VOTOS en CONTRA : 0
SEGUNDA RONDA DE VOTACIÓN:
Do you want LA TRIBU to become a ETHICHUB originator? / ¿Quieres que LA TRIBU sea un originador de ETHICHUB?
ENGLISH AUTOMATIC TRANSLATE:
The originator:
Café La Tribu is a network of cooperatives working together with common goals: "to make coffee farming a dignified means of progress and development for the families dependent on this crop in the Sierra Madre de Chiapas."
Within this network, the Café Fundadores SPR de RL and Reserva 1920 cooperatives, as well as Café Especiales SPR de RI, collectively comprise about 539 families producing approximately 23,240 quintals on 1,907 hectares of land. These parcels are located within the buffer zone of a Natural Protected Area (NPA), the El Triunfo Biosphere Reserve, one of the most important at the national and international levels.
We work our parcels in harmony with Mother Nature, under an organic production system, with coffee plantations managed under diverse shading. Year after year, we have grown in impact and also in needs; therefore, we understand that seeking strategic alliances is the best path. We are directly impacting more than 539 families and indirectly reaching around 2,695 farming families.
The project:
The project involves financial support for the export of 14,000 kg of green coffee from the two cooperatives to Europe under the common brand of La Tribu. The export is planned for September 2023, with commercialization taking place throughout 4Q 2023 and 1Q 2024. The coffee will be specialty green coffee, washed, organic, and scoring 82-84 points on the cupping scale.
The guarantee:
Since agricultural cooperatives typically have their assets in coffee, this time we will take 20% of the coffee delivered as collateral, instead of requiring a 20% stake in the project in ethixs.
The loan:
A minimum target selling price of $2.3 per pound has been established for the cooperative, which is equivalent to $5.07 per kg. Since the operation of the two cooperatives is 7,000 kg each, totaling 14,000 kg at $5.07 per kg, this amounts to a total of $70,980. Additionally, we calculate $1 per kg for logistics expenses such as transportation, storage, and distribution. In total, the project is valued at $85,000. The budget will be requested partially in different phases, with $10,000 on the platform.